Home Page
I am a...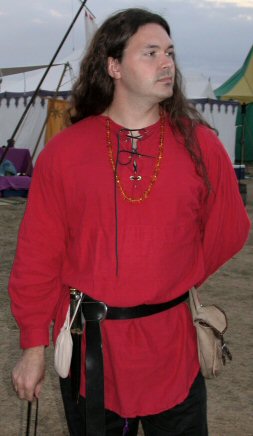 Father

My son, Gilbert René Komuves was born on March 8, 2010.

Healer

I studied Amma (a Japanese massage style) for a couple of years, and other energy-based healing arts for a number of years. This is an aspect of my life that is very important to me. I enjoy helping people, and it feels good to use the gifts that I have in this area. Since I am fortunate enough to earn enough money elsewhere, it has been easy for me to never charge anyone for healing them. This is the natural balance to studying martial arts--if you learn to harm and destroy life, you must also learn to heal and save lives. I must say that although I have some substantial skill at both, I much prefer to heal.

Martial Artist

I actively studied Hung-gar kung-fu (a southern Shaolin style that mimics the movements of the tiger and the crane) for 7 years as a disciple of the grandmaster of that style, and very actively for a number of years on my own. I still continue to train on my own, to try to maintain my kung-fu and keep in shape. It is an art that I really love and that I am grateful to have been able to learn. I also occassionally teach a self-defense class for women.

Meditator

I practiced Ch'an (Zen) meditation for years, as well as some other forms, and several forms of yoga.

Occasional Author

I have written a couple of self-published computer books, articles for a few newspapers, a course book, various proprietary white papers and research papers, a few technical papers, and I maintain several web sites. I began writing a cookbook once, but never finished it.

Scholar of Religions

Although I never got around to getting a very substantial formal education, I do have a B.A. degree in Religion (not Theology!) from Rutgers College (I minored in Computer Science and Philosophy). I spent a lot of time learning about various traditions, and studied a couple of religious cults very closely. I've always been fascinated by the great diversity (and archtypal similarity) of the many religious and spiritual traditions in the world, especially Buddhism, classical Greco-Roman and Native American religious traditions.

Software Developer

I have many years of experience writing web-based software applications. I've been doing that professionally since 1993. I mostly write large-scale, database-driven sites that provide social networking, financial services, or video sharing functions, but I've done a variety of just about everything else as well. I mostly like to work in a Unix environment, writing most software in Perl (and the user-facing side in the usual HTML, CSS and JavaScript), and using MySQL.

I'm currently working for Binge, LLC-a startup company for which I've designed and written a video sharing/social networking website focused on urban african american and hiphop culture. I also do other consulting work and maintain several other websites, such as CERT Alert™.

I was previously the Principal Systems Architect at Cibernet Corporation (which was purchased by MACH). I was a (Primary Investigator) Member of Technical Staff (MTS) at Bell Labs Research for almost 7 1/2 years, where I created Web-based directory and other information systems that were used by tens of thousands of people inside Lucent Technologies (now Alcatel-Lucent), and where I tried to figure out better ways to make applications that are self-adapting and scalable. My main project was called LUCID (Lucent Univeral Corporate Internal Directory), which I was the architect and developer of, and which provided most of the functionality that later came to be known as "social networking". Dispite the problems that Lucent had, I really loved my job there and I think it was one of the best places in the world to work for someone who is intellectually inquisitive.

Inventor/Innovator

I try to figure out new and better ways of doing many things, mostly in the realm of software, such as this patent.

Teacher

I once taught a mini-course on "Doing Business on the Internet" at XRT (2-day course) and at Cabrini College in PA. I've also given several talks at various conferences about computer-related topics. I even spent a few weeks in Hyderabad, India to teach software development. I used to teach kung-fu classes at Middlesex County College. I've also taught other self-defense (including at a kids summer camp) and rape prevention classes, such as a class I occassionaly teach through EASTCONN, entitled, Don't be a Victim: Self-Defense for Women. In giving what you've learned back to others, it completes the circle of life.

Volunteer

I am the leader of the Community Emergency Response Team (CERT) for Chaplin and Hampton, CT. I am also a Coverts Cooperator, a member of the Chaplin Conservation Commission (where I run an annual Chaplin Cleanup Day), and a member of the Chaplin Democratic Town Committee. I ran as a candidate for a volunteer political office on the Chaplin Planning & Zoning Commission in 2009, but lost the election. Back in college at Rutgers, I ran (and co-founded) the Native American organization there, The Rutgers Organization for Native American Culture (RONAC).
I am a member of the SCA (Society for Creative Anachronism), where I regularly attend some events, like the Pennsic War. I camp there with Clann O'Choda, the household I am am member of. I like a lot of music, including rock, folk and classical. Jethro Tull is probably my favorite band. I'm also very fond of Kate Bush, Kitaro, the Moody Blues and Led Zepplin. In folk music, I am partial to the likes of Greg Brown, Ani DiFranco and Dar Williams. I used to attend the Falcon Ridge Folk Festival every year for about 12 years. I also regularly attend Contra dances, and occassionally get to do English Country dances and other folk dances. I've been trying to learn belly dancing, but it'll take a lot more training. My favorite TV series of all time is Babylon 5; with Dr. Who, Monty Python and Black Adder also being ones I really enjoyed.
I grew up and lived in central NJ for most of my life, until late 2004 when I moved to the quiet corner of CT (northeastern CT) on my 80 acres of land here. I've found that I really enjoy living in this more rural area. I try to hunt and grow as much of my own food as I can.
My honor is very important to me. I won't lie, and I try to be very direct (aka blunt) with people, which I believe is part of treating them with respect. Compassion, physical fitness, intellectual pursuits (I always like to learn more about things), passion and adventure are also important to me. I like to try new foods, travel to interesting places, and create things that have never been created before.